About YOUR4X4
YOUR4X4 has established itself as a unique 4wd program highlighting real enthusiasts enjoying real 4wd trips. 4×4 treks and destinations can take on any form and length and YOUR4X4 successfully captures this diverse scene with numerous day trips out of capital cities, weekend jaunts, working 4×4 excursions and longer touring trips including overseas 4×4 adventure opportunities.

Just as varied and of interest to all 4×4 enthusiasts is the terrain and environment they travel through and again this ground breaking TV show has it all from beach and dune driving through to deserts and tropical rainforests. Whether it's the remoteness of the Australian Outback or the Alpine charm of the Victorian High Country, the YOUR4X4 team have covered it all and will continue to do so in the same style that has seen the program rocket to popularity already.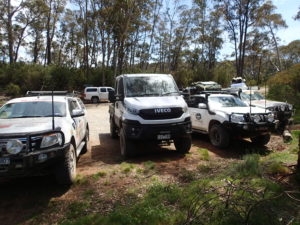 Another key factor to the success of the program is the combination of enthusiastic hosts, producers, crew and sponsors. Without any one of these integral components the show would be nowhere near as inspirational or as accepted as a true presentation of how 4wd and outdoors enthusiasts see themselves and actually live and experience their chosen lifestyle. Form the shows dynamic duo of Danny and Simon through to the list of growing sponsors spanning all aspects of the 4wd industry, all involved are true ambassadors of the positive and thriving 4wd scene and the total team are 100% committed to continuing the growth of the show and subsequently the support and celebration of 4wdriving itself.
With our team continually seeking out the best 4×4 locations and adventures, viewers will experience all new trips and destinations plus a far greater level of involvement from the associated partners as the entire team pushes to be involved in the fun and escape that only a 4×4 and the great outdoors can offer.
Please feel free to browse the YOUR4X4 website, enjoy the diversity of links, videos, news items, 4×4 photos and more and remember to make regular visits as we are continually improving and adding to the site. Our aim is to make the YOUR4X4 website a deeper portal of 4×4 information and your online home whilst you're not watching the show. Don't forget that you can also watch us 24/7 online and feel free to contact either Danny or Simon for more information, just to say G'day or if you have any ideas or feedback.
Whether you're a first time visitor or a regular viewer, both Danny and Simon welcome you all to what has become a major part of our lives and we hope that there is something of interest for all of you no matter what you drive. See you on the tracks!